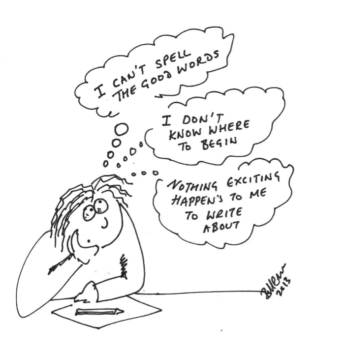 Do you have difficulty writing stories, like this boy?
These few tips should help you, but if you or your parents want further, detailed help you could get the manual for Scaffolding Creative Writing that I have written.

First you need to learn the skills of writing:
Other words for walk

Other words for said

How to write a conversation

Where to put punctuation

Linking words (for a series of unfortunate events!)

Similes and metaphors

Alliterations

How to write a letter

Proverbs and Idioms
To begin with, read good books to get ideas. See the section on reading for which kinds of books I am suggesting. You do not want to copy the book but you can use ideas for locations (in a cave, sea, schoolroom) or characters (monsters, headmistresses, evil phantoms) as long as you change the names. Have fun having someone else reading out the passage and you acting it out, it will come more alive.
Interesting and different phrases and words are all important for making your stories sound even better. Make these lists from your books and use them back in your writing, spelt correctly! ('long, pale, wrinkly face' from the BFG, 'curiosity got the better of her' from the Magician's Nephew or 'the heavily sculpted facade' from Northern Lights) Use these words over and over again in different stories and you will start to use and spell them automatically!
The Lead In
Asking the questions, who, where and why? Who is the main character in the story, where is that person and why are they there? Often it is easier to write if you put yourself in the story.
Eg (
Henry (or I) , in cave, playing hide and seek

)
Description of the Setting.
What/ where is the setting?
Describe the setting, using your five senses and the vocabulary lists.
Eg (
The cave, Cornwall by the Sea

)
Description of the Encounter.
What/who do you meet? It can be a person, a creature or something like a storm)
dialogue, as it is all too easy to forget the description. Again ten minutes is the appropriate amount of time to write.
Eg (
Black cave monster

)
Lead out.
What happens? Is there a fight, a conversation, do you run away? Or it could be a cliff-hanger where you go back to why you were there in the first place.
Eg. (
It was the last time I was going to play hide and seek in the caves of Cornwall!

)
This is possibly the biggest help for those of you with difficulties and/or English as an Additional Language; look at the IT section, remember if you have difficulty writing for any reason, you can always use a voice recognition piece of software like Dragon, to type it for you, as you speak!
Now you are ready to begin writing!
There are four points to think about:
you should write

skipping lines

(to leave lines in case you want to change/ correct anything)

You should write in silence, so you can concentrate. No questions should be asked as this disturbs everyone around.

Timing is everything. Once you have done your plan, you should spend:

5 minutes on the lead in,

10 minutes on the description of the place/ setting

10 minutes on the encounter

5 minutes on the lead out
This way you get in to good practice writing stories in half an hour (the usual time given in tests and exams)
4) Give your self five minutes to proof read your story, preferably with the aid of a spell checker.
Now you have written your story you should keep it in a 'show off' file and really enjoy reading your story to anyone who will listen: your parents, brothers, sisters, your granny, the dog….. You should feel very proud of yourself and know that you can write wonderful short stories.
KS3
If you are reading this and it seems too simple to be true, it is, but it is also easy to extend your work by:
Allowing more time for each paragraph

Writing two or three paragraphs for each part of the story

Using more and more sophisticated texts (and therefore vocabulary) as the stimulus.

Outstanding work can be expected and achieved right up to GCSE and beyond, having this scaffold as the root model.